Girl Scouts—Dakota Horizons is governed, according to its bylaws, by a Board of Directors composed of volunteer men and women who believe in the value of Girl Scouting and are elected by the Delegate Body of the council.
Register by March 1 and attend as an elected delegate for your chance to win one of two BEATS SOLO2 HEADPHONES.
Continue >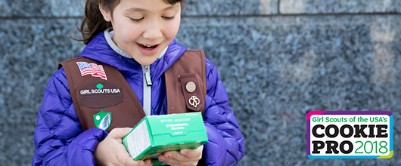 Where Girl Entrepreneurs Come to SHINE!
Are you a barrier breakin', challenge crushin', lead takin' cookie entrepreneur? Do you put that unmatchable Girl Scout courage to the test every year to create positive change in your community and the world? We want to hear from you!
This cookie season, let's show 'em how the largest girl-led entrepreneurial program in the world prepares girls to lead, learn, succeed, and shine—not only for today but also for the future—by entering the national Girl Scout Cookie Pro Contest 2018 from January 2 through April 30.
Continue >