Our Sioux Falls office is closed due to weather. Regular office hours will resume Tuesday, Feb 22 following the Martin Luther King Jr Holiday.

Whether your girl is part artist, part scientist, or part explorer, Girl Scouts is where she can pursue what she loves and blaze new trails. Here, girls take on leadership roles in a girl-led space and develop skills they'll use to make an impact.  Watch the new video to see current Girl Scouts show the world they know who they are and what they're made of—they're all Girl Scout! 



Continue >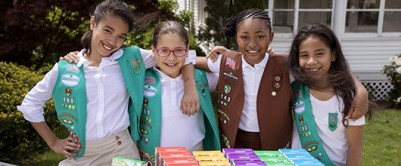 What's her barrier-breaking, goal-crushing, world-changing superpower? Encourage every Girl Scout you know to enter the 2019 Cookie Pro™ contest, and let us know! Girl Scouts and the inspiring DC Super Hero Girls™ are teaming up to give girls the Cookie Entrepreneur Experience of a lifetime, including a trip to sunny California; she can share her unique cookie story for a chance to win—and unlock a special patch!
Continue >